Buy Tickets

THE BEST WAY TO PURCHASE TICKETS IS TO BUY THEM ONLINE. YOU MAY DO SO BY CLICKING THE "BUY TICKETS" BUTTON BELOW. IF YOU NEED ASSISTANCE WITH ONLINE PURCHASES, PLEASE CALL WEST END PRODUCTIONS AT 1- 855-937-8505 (1-855-WEST505)
Refunds will not be issued for reservations. Tickets may be exchanged for another performance of the same show, or a similarly priced production.
Online ticket pricing:
General admission- $23.00
Student/Senior 65+ – $22.00
Military/TALC/Sag-Aftra – $22.00
Pricing at the door. We encourage you to purchase tickets online:
General admission – $25.00
Student/Senior 65+ – $24.00
Military/TALC/SAG-AFTRA -$24.00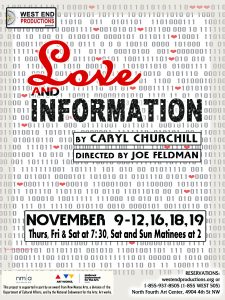 "The greatest living English playwright and, in my opinion, the most important English language playwright since Williams" – Tony Kushner
"In the fast moving traffic of life there are still quiet moments of beauty, heart-wrenching sorrow, joy and profound epiphanies…The succinct and thought – provoking script speaks volumes about the fast turnover of modern life." – Huffington Post
"Leave it to Ms. Churchill to come up with a work that so ingeniously and exhaustively mirrors our age of the splintered attention span." – New York Times
Contains mild adult themes

WEST END PRODUCTIONS, THANKS YOU FOR YOUR SUPPORT!