Auditions for West End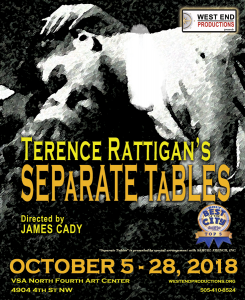 Audition notice – SEPARATE TABLES by Terence Rattigan
Directed by James Cady
Auditions: Saturday July 28 (10am – 12:30pm) and Sunday July 29 (5.00pm – 7:00pm); callbacks on Sunday. Cold readings from script. English accents required.
VSA North 4th Arts Center, 4904 4th Street NW, 87107
Performances: October 5 – 28, 2018 at VSA North 4th Arts Center. Rehearsals will begin August 13th.
Available roles: 6 female, (4) 50s-60s, (2) early 20s. The roles of Anne Shankland/Sybil, Miss Cooper, John Malcolm/Major Pollock have been cast. 2 male, (1) 50s–60s, (1) early 20s.
The play title is a collective name of 2 linked one-act plays set in a shabby but genteel private hotel in Southern England by the sea, in the early 1950s.
Email info@westendproductions.org
Female
Mrs Railton-Bell – 50s-60s
Domineering, snobbish and censorious, the self-appointed spokesman for the residents of the Hotel Beauregard.
Lady Matheson – 50s-60s
Impoverished but cultured widow of a Civil Servant, the timid and slightly dithery acolyte of Mrs Railton-Bell. Probably rather more genuinely upper-class than Mrs R-B.
Miss Meacham – 50s-60s
Eccentric spinster, huntin', shootin' fishin' type, spends most of her time studying the racing form and communing with the spirits of the dead.
Jean Tanner/Stratton – early 20s,
Charles Stratton's girlfriend, determined to be unconventional, with marriage and children very definitely not on the agenda. By Act 2 "Table No 7" she and Charles are married with a baby, and her conversation consists mostly of baby-talk. To her husband's horror, staunchly supports Mrs R-B's campaign against Major Pollock. "
Mabel – Waitress at the Beauregard Hotel. "taciturn, gloomy & dependable". Not RP. a tough gal, knows the ropes. No nonsense. Has seen it all.
Doreen – 20's, waitress, "flighty, talkative and undependable".
Male
Charles Stratton – 20s plus
A medical student: boyfriend, then husband of Jean Tanner. By the time of "Table No7" he is showing signs of being worn down by fatherhood and Jean's attempts to hen-peck.
Mr Fowler – 50s-60s, even older, but a mild mannered retired public schoolmaster who, lives in permanent anticipation of visits from former pupils who never actually turn up. A lonely man with an imaginary past.