Hay Fever by Noel Coward
Directed by Mario Cabrera
COMING SOON!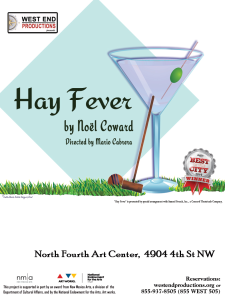 The Dresser by Ron Harwood
Directed by Colleen Neary McClure
Friday October 28th to Sunday November 13th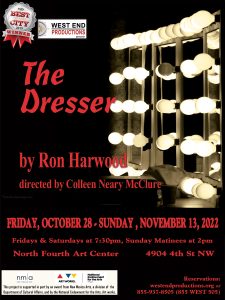 West End Productions performs at the North Fourth Art Center
4904 4th St NW, Albuquerque, NM 87107
LOOP SYSTEM WITH HEADSETS AVAILABLE!!
(Please give us at least 24 hours' notice for headsets).
TICKET PRICING
Online ticket pricing:
General admission- $23.00
Student/Senior 65+ – $22.00
Military/TALC/Sag-Aftra – $22.00
Pricing at the door:
General admission – $25.00
Student/Senior 65+ – $24.00
Military/TALC/SAG-AFTRA -$24.00
WEST END PRODUCTIONS is a theatre company dedicated to creating top-quality theatre, film, and video, with a primary focus on writers from England, Ireland, Scotland, and Wales past and present. We will present works from the classical repertory, as well as showcasing the most contemporary of authors from the British Isles and everything in between. We pledge to hold ourselves to the highest professional standards.