Hay Fever by Noel Coward
Directed by Mario Cabrera
Friday February 25th to Sunday March 13th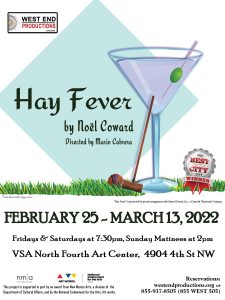 Hoping for a quiet weekend in the country with some guests, David Bliss, a novelist and his wife Judith, a retired actress, find that an impossible dream when their high-spirited children Simon and Sorel appear with guests of their own.
"An evening of intoxicating escape." – The New York Times
"Light, luminous, and charming, and hilariously funny." – The New York Post
One Man, Two Guvnors by Richard Bean
Directed by Joe Feldman
Friday May 6th to Sunday May 22nd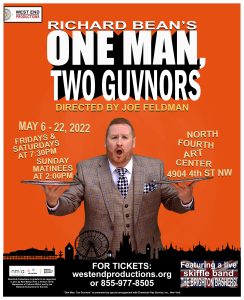 Brighton England 1963. Change is in the air, and Francis Henshall is looking to make his mark. Richard Bean's hilarious comedy received 5-star reviews from every London newspaper and was the hit of the 2012 Broadway season.
"Splendidly Silly – satanic and seraphic, dirty-minded and utterly innocent." – The New York Times
"The most glorious comedy on the planet" – The New York Times
The Dresser by Ron Harwood
Directed by Colleen Neary McClure
Friday October 28th to Sunday November 13th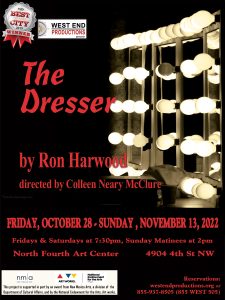 Based on the author's own experiences as a dresser to Sir Donald Wolfit, this bracing, heartbreaking drama is an elegy to a by-gone era. Backstage at a theatre in the English provinces during WWII
"A stirring evening [that]…burns with a love of the theatre that conquers all…Perfectly observed, devilishly entertaining backstage lore." – The New York Times
"Enthralling, funny, and touching. Lovingly delineated dramatic portraits