2023 SEASON
West End Productions is starting their
2023 Season!
The Dresser by Ronald Harwood
Directed by Colleen Neary McClure
Featuring Peter Shea Kierst and Yannig Morin
JANUARY 13TH TO JANUARY 29TH, 2023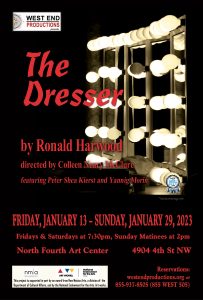 Based on the author's own experiences as a dresser to Sir Donald Wolfit, this bracing, heartbreaking drama is an elegy to a by-gone era. Backstage at a theatre in the English provinces during WWII
"A stirring evening [that]…burns with a love of the theatre that conquers all…Perfectly observed, devilishly entertaining backstage lore." – The New York Times
"Enthralling, funny, and touching. Lovingly delineated dramatic portraits"
West End Productions proudly announces the cast of "The Dresser" by Ronald Harwood. Opening January 13th, 2023 for 3 weekends at the North Fourth Art Center.
In order of appearance:
Norman – Yannig Morin
Her Ladyship – Fawn Hanson
Madge – Jessica Osbourne
Sir – Peter Shea Kierst
Irene – Versai Knight
Geoffrey Thornton – Neil Faulconbridge
Mr. Oxenby – Levi Gore
Gloucester – Philip J. Shortell
Albany – Caedmon Holland
Kent – Aodan Luthazar
April in Paris
Directed by Colleen Neary McClure
Featuring Jessica Osbourne and Dan Ware
APRIL 21ST TO MAY 7TH, 2023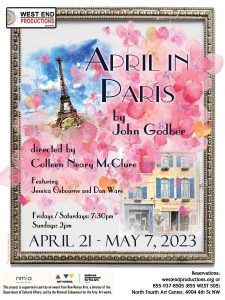 Bet and Al lead a quiet, humdrum life in their small Yorkshire home until Bet wins a 'Romantic Breaks' competition in a magazine. The prize, a holiday in Paris, represents their first experience abroad and has profound effects on the way they look at the world around them once they return home.
"This hilarious romantic adventure, featuring John Godber's unique brand of observational comedy, was nominated Comedy of the Year in the Olivier Awards." 
"April In Paris is another example of Godber's ability to beautifully exploit the charm of British culture, this time in a European setting." – London Theatre 1

West End Productions appreciates our patrons and their continued support. If you would like make a donation, please click on the link below.  West End Productions is not a non profit organization. However, we operate without profit.  All money earned through pursuing business activities or through donations goes right back into running the organization,

Performing at the North Fourth Art Center
4904 4th St NW, Albuquerque, NM 87107