Auditions for West End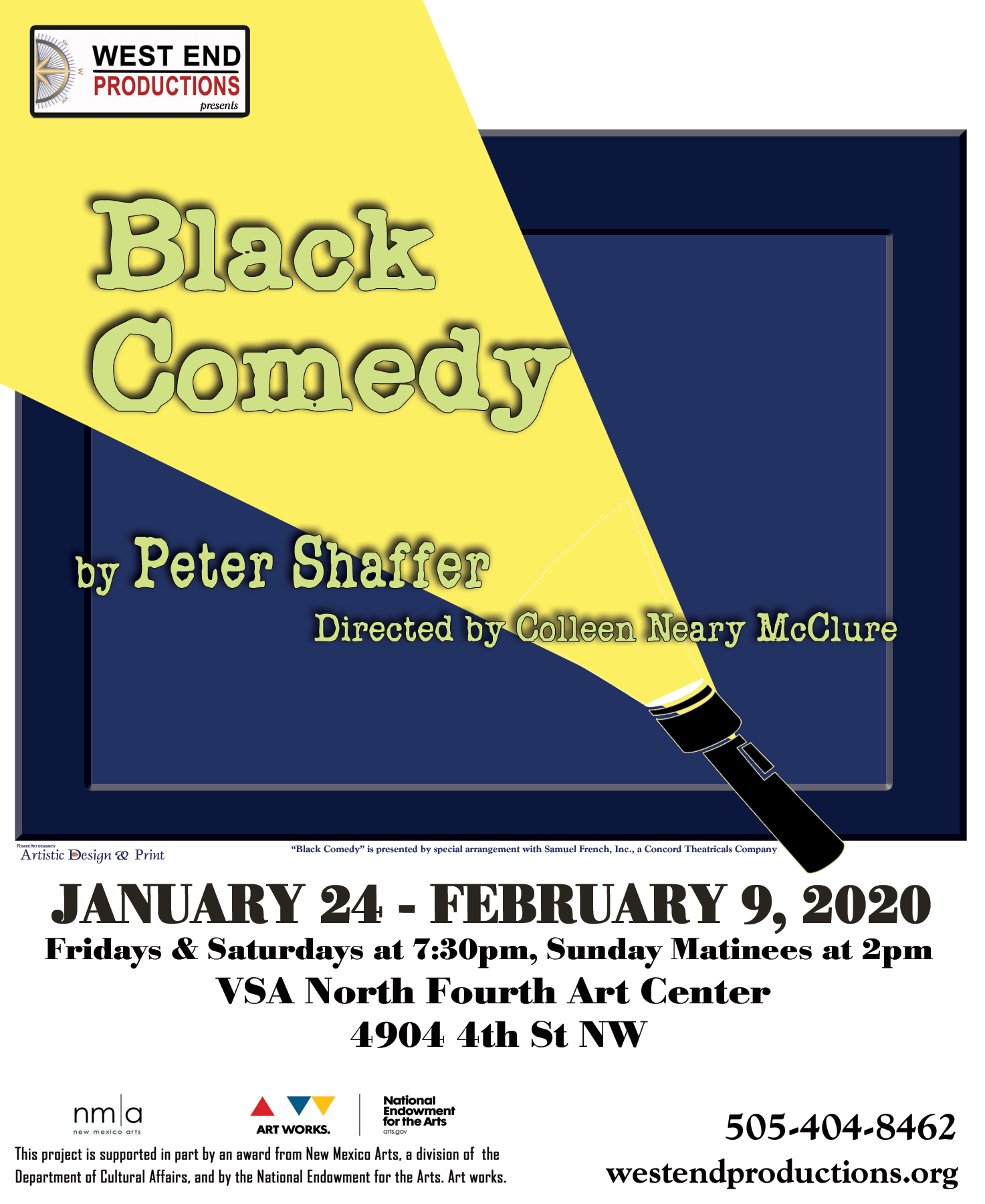 West End Productions announces auditions for our first show of the 2020 season! Black Comedy by Peter Shaffer.
Lovesick and desperate, sculptor Brindsley Miller has embellished his apartment with furniture and objects d'arte "borrowed" from the absent antique collector next-door, hoping to impress his fiancée's pompous father and a wealthy art dealer.
"[One of] the funniest and most brilliant short plays in the language." – London Sunday Times
"Pure hilarity." – International Herald Tribune
"Laughter mounts steadily." – The New York Times
"Hilarious." – New York Post
"A dazzling comic ballet." – New York Daily News
"It is still possible to laugh yourself into a hernia watching Black Comedy." – USA Today
"An orgy of blind slapstick brilliantly sustained."- Sunday Express
Auditions will be held at VSA North 4th Art Center located at 4904 4th St. NW which is just north of 4th and Griegos, on the east side of 4th St. General auditions are Saturday, August 24, from 10 AM to 2 PM. Auditions will be every fifteen minutes. Please e mail Colleen Neary McClure at colleennearymcclure@gmail.com  to reserve a slot and to access the script. The audition will consist of cold readings from the script. Callbacks, also at VSA North 4th, will be held on Sunday, August 25, from 10 AM to 2 PM
Rehearsals will begin December 1st, with a break December 22nd through to January 3rd.
The show opens at VSA North 4th on Friday, January 24, and closes Sunday, February 9, and runs Friday and Saturday nights with a matinee on Sunday afternoons.
CHARACTER BREAKDOWN
All British Dialects except Schuppanzigh and Georg Bamberger who are both German:
Brindsley Miller, a young sculptor, 20 to 30 years intelligent and attractive, but nervous and uncertain of himself. Must be good with physical comedy!
Carol Melkett, Brindsley's fiancée. A young debutante 20 to 30 years, very pretty, very spoiled, very silly. Her sound is that unmistakable terrifying debutante quack
Miss Furnival, a middle-aged lady, Prissy and refined. Clad in the blouse and sack skirt of her gentility, her hair in a bun, she reveals only the repressed virtues of the middle-class spinster – until alchohol undoes her.
Colonel Melkett, Carol's commanding father. Brisk, barky, yet given to sudden vocal calms which suggest a deep and alarming instability. It is not only the constant darkness which gives him his look of wide eyed suspicion.
Harold Gorringe, the bachelor owner of an antique china shop, and Brindsley's neighbour. He is attracted to Brindsley. Harold comes from the North of England (if possible). His friendship is highly conditional and possessive. A specialist in emotional blackmail, he can become hysterical when slighted, or (as inevitably happens) rejected. He is older than Brindsley by several years.
Schuppanzigh, German, cultivated, and effervescent. He is an entirely happy man, delighted to be in England, even if it means being employed full time by the London Electricity Board.
Georg Bamberger, and elderly millionaire and art collector, easily identifiable as such. Like Schuppanzigh, he is German.
Clea – Precast