2020 SEASON

BLACK COMEDY by PETER SHAFFER
JANUARY 24 – FEBRUARY 9, 2020
Directed Colleen Neary McClure
Lovesick and desperate, sculptor Brindsley Miller has embellished his apartment with furniture and objects d'arte "borrowed" from the absent antique collector next-door, hoping to impress his fiancée's pompous father and a wealthy art dealer.

"[One of] the funniest and most brilliant short plays in the language." – London Sunday Times
"Pure hilarity." – International Herald Tribune
"Laughter mounts steadily." – The New York Times
"Hilarious." – New York Post
"A dazzling comic ballet." – New York Daily News
"It is still possible to laugh yourself into a hernia watching Black Comedy." – USA Today
"An orgy of blind slapstick brilliantly sustained."- Sunday Express
Performing at the VSA North Fourth Art Center
4904 4th St NW, Albuquerque, NM 87107
~~~~~~~~~~~~~~~~~~~~~~~~~~~~~~~~~~~~~~~~~~~~~~~~~~~~~~~~~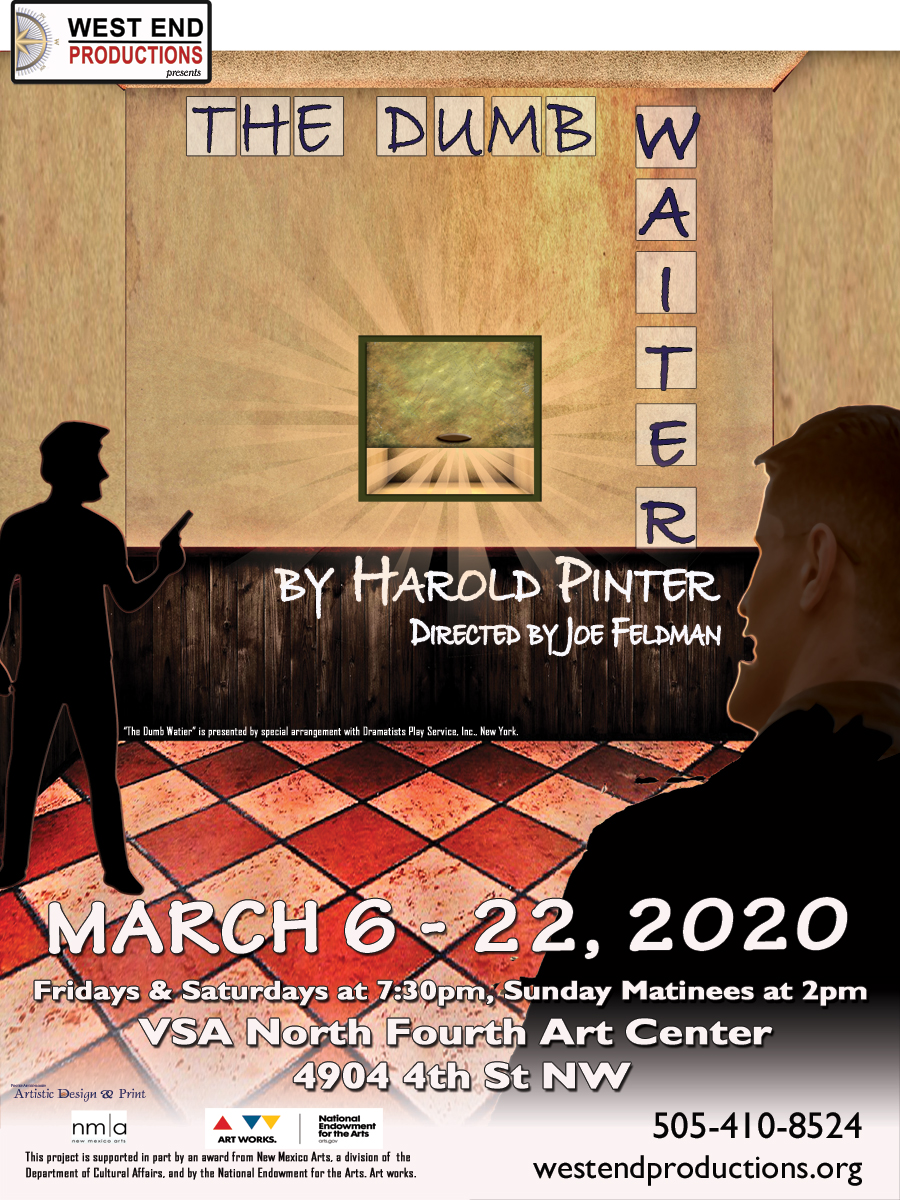 THE DUMB WAITER by HAROLD PINTER
MARCH 6 – MARCH 22, 2020
Directed by Joe Feldman
Gus and Ben are on the job, waiting and listening. Into the waiting silence rattles the dumb waiter with extraordinary demands for dishes they cannot supply – and who is operating the dumb waiter in an empty house?
"THE DUMB WAITER is a suspense play, mysterious almost mystic." —NY World-Telegram & Sun.
"…a distinguished gift for sheer, old-fashioned theatrical effectiveness, including the use of melodramatic suspense and the hint of sinister forces lying in ambush." —NY Post.
Performing at the VSA North Fourth Art Center
4904 4th St NW, Albuquerque, NM 87107
~~~~~~~~~~~~~~~~~~~~~~~~~~~~~~~~~~~~~~~~~~~~~~~~~~~~~~~~~
HAY FEVER by NOEL COWARD
OCTOBER 16 – NOVEMBER 1, 2020
Directed by Leslee Richards
Hoping for a quiet weekend in the country with some guests, David Bliss, a novelist and his wife Judith, a retired actress, find that an impossible dream when their high-spirited children Simon and Sorel appear with guests of their own.
"An evening of intoxicating escape." – The New York Times
"Light, luminous, and charming, and hilariously funny." – The New York Post
Performing at the VSA North Fourth Art Center
4904 4th St NW, Albuquerque, NM 87107