2017 SEASON
SHE STOOPS TO CONQUER, by Oliver Goldsmith.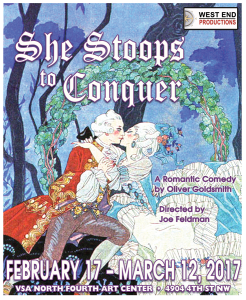 The best-loved English comedy of the 18th century mocks the snobbery of London through the manipulations of the country, embodied in Tony Lumpkin. "She Stoops to Conquer" also celebrates the virtues of "laughing comedy," which Goldsmith advocated over the prevalent sentimental forms of his contemporaries.
VSA North Fourth Art Center
4904 4th St NW, Albuquerque, NM 87107
Phone: (505) 345-2872
February 17th – March 12th
Directed by Joe Feldman
EDUCATING RITA, by Willy Russell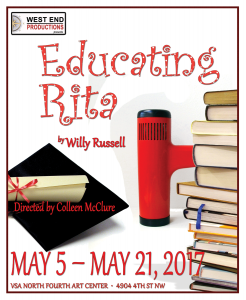 Frank is a tutor of English in his fifties whose disillusioned outlook on life drives him to drink and bury himself in his books. Enter Rita, a forthright 26 year-old hairdresser who is eager to learn. After weeks of cajoling, Rita slowly wins over the very hesitant Frank with her innate insight and refusal to accept no for an answer. Their relationship as teacher and student blossoms, ultimately giving Frank a new sense of self and Rita the knowledge she so craves. The play became a hit film with Michael Caine and Julie Walters.
"Warmly written…It is the interchange of feeling and realization of new approaches to life on both sides that make this play of particular interest." – London Telegraph
"A marvelous play, painfully funny and passionately serious; a hilarious social documentary; a fairy tale with a quizzical, half happy ending." – London Times
May 5th – May 21st
VSA North Fourth Art Center
4904 4th St NW, Albuquerque, NM 87107
Phone: (505) 345-2872
Directed by Colleen McClure
ABIGAIL'S PARTY, by Mike Leigh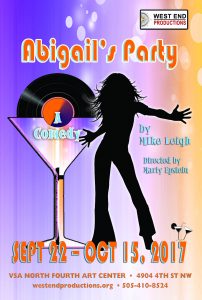 British suburbanites Laurence and Beverly are entertaining their new neighbors, Angela and Tony as well as Susan, whose teenage daughter, Abigail is having a party to which Susan has been dis-invited.
"A brutally accurate portrait of people who link ownership with status and who surround themselves with expensive objects…for which they have no practical use… An almost Strindbergian vision of marital loathing." – Guardian UK
Abigail's Party was first presented at the Hampstead Theatre in London on April 18, 1977. It was directed by the author.
September 22nd – October 15th
VSA North Fourth Art Center
4904 4th St NW, Albuquerque, NM 87107
Phone: (505) 345-2872
Directed by Marty Epstein